Like many of you, I recently received the email that confirmed what we were all expecting – JCK Las Vegas will not be happening this year due to COVID-19 concerns.  Now is the time of year when I  start thinking about who I want to visit with and what I'm interested in seeing.  Instead, I'm reflecting back on what I enjoyed last year, and I'm looking forward to better days ahead!
Last year was my second year at JCK and the first year my husband joined me.  We own a web design firm, FDG Web, and we have started building websites for a couple of jewelry stores, so it was also a good opportunity for him to get to know the business better! I got to check in with some of my favorite vendors,  and see some fabulous new products. Here is a spotlight on just a few of my favorite vendors!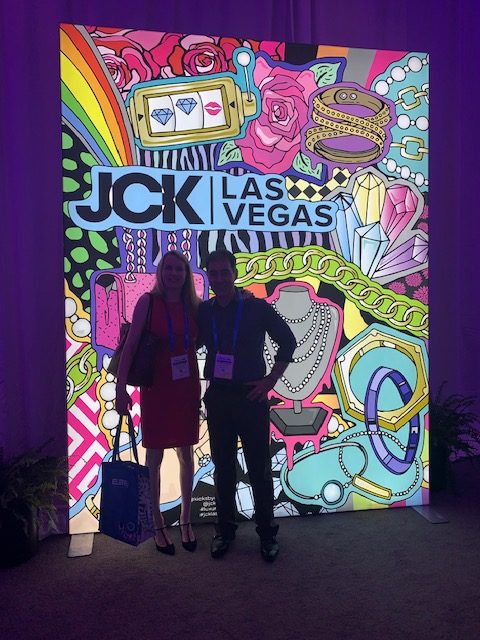 I always love visiting with the people of Greenland Ruby. Their rubies and pink sapphires are stunningly gorgeous and each stone comes with a certificate of origin issued by the Government of Greenland. Greenland is known as a country with an excellent human rights recor, and the stones are ethically and environmentally responsibly sourced. They are completely trackable from mine all the way to market. In today's jewelry market, many people like to know where the stones they are buying came from and how they are sourced. Their eventual goal is to cut and polish the stones in Greenland, to increase the benefit to Greenland's people.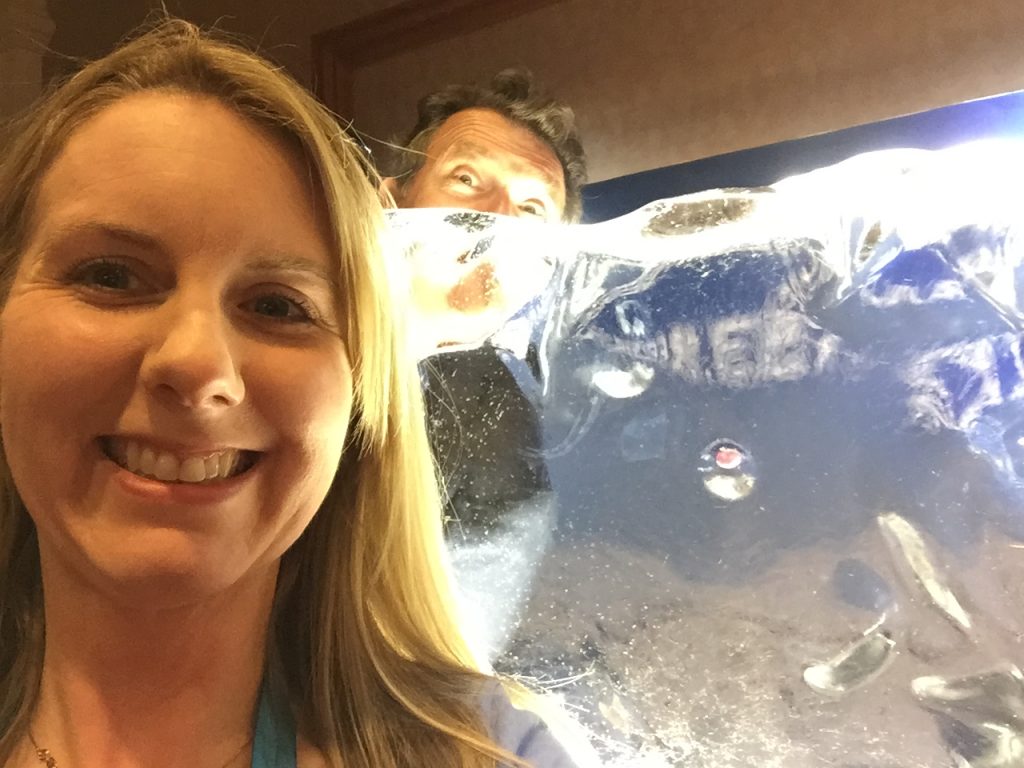 In addition to Greenland Ruby's employees being so fun to talk to, in the two years I have been to JCK, they always have a fun display (though, sadly I missed it last year.) Two years ago they had a rough piece of Greenland Ruby frozen in a giant block of ice. Whoever guessed the weight closest to the actual weight got to take the ruby home. Sadly, it was not me! To enter the contest, you had to take a selfie next to the block of ice. Last year they had an ice sculpture on the first day of a polar bear. Greenland Ruby has a foundation called the Pink Polar Bear Foundation for the support of polar bear research and protection.
Environmentally friendly, socially conscious and protective of wildlife, Greenland Ruby is a company that has all of my interests covered! I also love their hashtag: #notyourgrandmothersruby.
Kimberly Collins Gems
I discovered Kimberly Collins' gem collection scrolling through Instagram one day. I love that in a field usually dominated by diamonds, she is all about colored stones. And when I say color, I am not kidding – she is all about bold statement pieces featuring rich color. She also deals in loose gemstones if you prefer to design a completely unique piece. I tracked her down at the American Gem Trade Association show, which was also in Las Vegas. She had been marketing these rainbow colored sapphire bands that I absolutely loved. I found her and her booth and she could not have been more helpful – we quickly found a band in my size – and long story short, it found its way home with me :). It's a very versatile piece that I wear in combination with other pieces. If you love unique gems, she has you covered. Check out her collection – if you are looking to add some color to your life, this is the designer for you!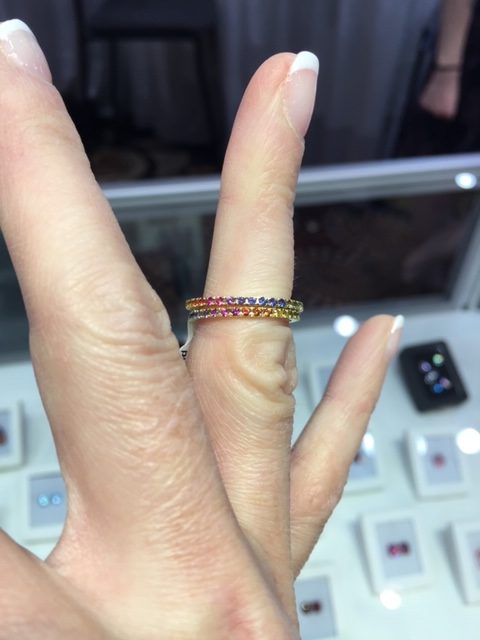 Alex and Ani
While not "fine jewelry" Alex and Ani pieces are fun nonetheless. I love all of their different themed collections – they issued one for the 60th Anniversary of Disneyland and sold it in the parks, and I just love it. I enjoy going to Alex and Ani's booth and seeing what is being released next in their collections. Last year, I was super excited about the "Friends" collection they were releasing for the 25th Anniversary and got to see it before it hit the stores later in the year. They also released Harry Potter, Frosty the Snowman, The Wizard of Oz and A Christmas Story collections that same year. The next time I was at McCarran Airport, later in the year, I popped into the Alex and Ani store, conveniently located next to the Centurion Lounge and found out the collection had just been released. They had one bracelet left, so I brought it home for my daughter!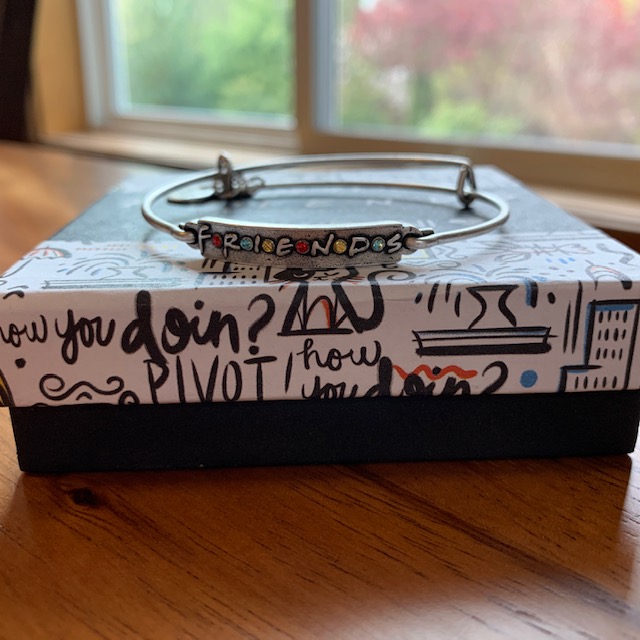 This is just a small sample of my must-visit booths at JCK Las Vegas. Do you have certain vendors you like to check in with every year? What are some of your favorite things about JCK and what do you look forward to for next year? Please let me know!