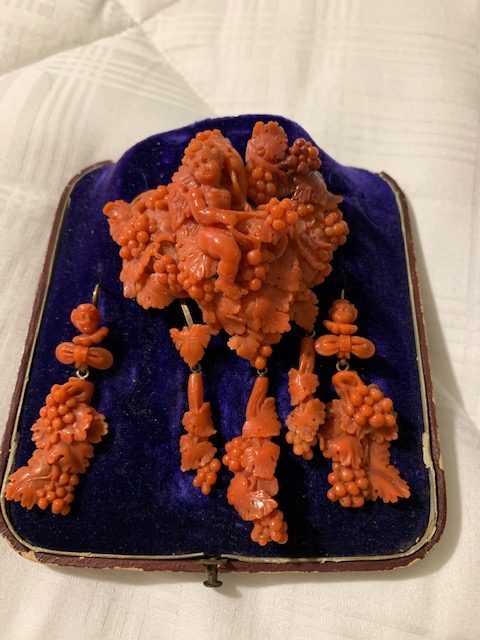 I was recently approached by a client wishing to sell a suite of heirloom jewelry. The set is a coral brooch and earrings in the original box. It was produced in Philadelphia in the early 1900s. While it is a beautiful set and holds sentimental value, it is not something that my client has any use for. She asked me to see if I could find an antique dealer who might like to buy it.
I first approached Eragem because they are about an hour from my home. I sent pictures to them, but it was not something that they normally carry in their shop. I then did some research and approached Lang Antiques in San Francisco. (If you have never seen their website, check it out – their inventory is jaw-droppingly gorgeous). They also maintain the most comprehensive historical educational database I have ever seen under the "University" section of their website.
Lang Antiques opened in 1969 and is the premier dealer of antique engagement rings and period jewelry from every era. It is located in Union Square in San Francisco.
I contacted Suzanne Martinez, who is owner/jewelry buyer at Lang's. She had me forward pictures to her of the items. She told me, once she had seen the pictures, that she was very interested, and would like to see the items in person. She also let me know that these kinds of pieces were often made "to satisfy the tastes of those on their grand tour of Europe." Once she had the items, she informed us that they needed some work, which was to be expected due to the age of the pieces. She tried to work with another dealer to get some replacement coral pieces of the same style, but was unable to do so. She then informed us that in order to make it salable, she would have to alter it.
In the end, she offered my client a price and my client accepted it. A bill of sale was drawn up and then my client will received her payment very soon after. It was a very smooth experience and I feel like I made a great contact in the field!
Do you have questions or need assistance selling an antique piece? Please let me know!