This month I got to fulfill a lifelong dream of visiting The Landmark Tiffany & Co. in New York City at the corner of 57th Street and Fifth Avenue. It turns out we planned our trip just right, because The Landmark just recently reopened after being closed for renovations since 2019. Besides exploring the 10 floors of the store (and finally laying eyes on the Tiffany diamond!) there was one more thing I *HAD* to do.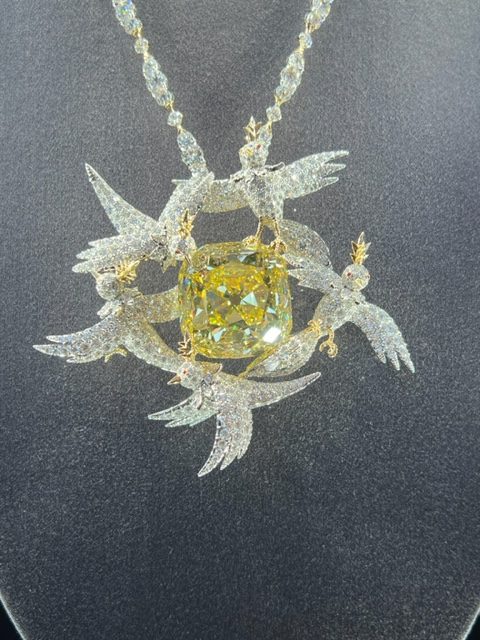 I immediately set my sights on scoring a reservation at the Blue Box Cafe by Daniel Boulud. It turns out this was a little more tricky than I expected. It is an intimate dining room with only about 18 tables in the front room and 3 in the back room so getting a reservation requires extreme dedication. As we were only in New York for four days, it required a little advanced planning. Reservations for the Blue Box Cafe by Daniel Boulud are available via Resy.com, and can be obtained starting 30 days before the date you would like to visit. It occurred to me that since I live on the west coast, that if I logged in to Resy.com at 9pm (which is 12 am New York time) that might be my best bet – and sure enough, it worked! My best advice is to log into Resy.com beforehand and enter all of your information and a credit card – you have to have a credit card to hold your reservation, and if you are able to snag a reservation, you do not want to waste time running around setting up and account and grabbing a credit card. I was not successful the first time I tried to get reservations, but the website did give the option of adding yourself to their waitlist. I did this for the first couple of dates we would be in New York  and every day I did get a notice that a table was available and I had the option to grab it. This is why it's important to have your account set up with your credit card ahead of time – when I got these notices, I was out sightseeing and it would have been inconvenient to have to sit in Central Park and set up my account.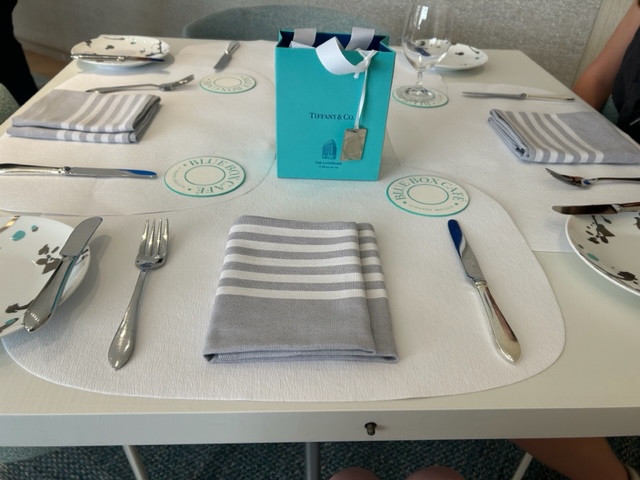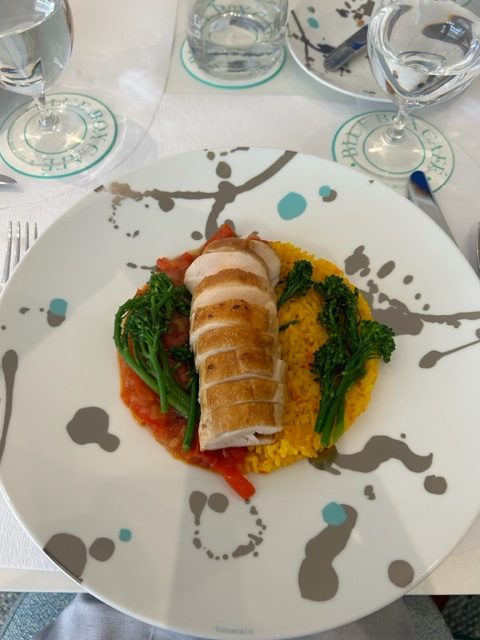 Our meal was wonderful. There are many options (see the menu here) including, as you may have guessed, a "Breakfast at Tiffany's" option. There is also a high tea menu. We opted for lunch. The rest of my family ordered the hamburgers, but I opted for the chicken breast, which was delicious, and the portion was just the right size. Our server was delightful, and the staff was very friendly. Overall, it was a very fun experience and I highly recommend it!
If dining at Tiffany & Co. is something to check off your bucket list, I recommend logging on as close to 30 days out as possible, and adding yourself to the waitlist if you don't get a reservation at first. I will also note that if you plan to shop, give yourself plenty of time either before or after your meal – the store is 100,000 square feet! We went on a weekend and the store was quite busy. If you know that you will be making a purchase, in order to maximize your time it may be wise to try to get an appointment to shop beforehand. When we were there it was a Sunday afternoon and it was difficult to find a sales associate (though, when we did they were kind and helped us right away). You will also want to leave time to look at the various displays (especially that of the aforementioned Tiffany Diamond, which is on the first floor) and the Audrey Hepburn exhibit, which features a replica of the famous Givenchy dress she wore as Holly Golightly in the first scene of "Breakfast at Tiffany's."
Have you been to the reimagined Blue Box Cafe by Daniel Boulud?  What was your favorite thing about it?